Red Lion Controls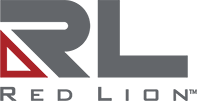 Torpey Denver Direct is an Authorized Distributor of Red Lion Controls. We have worked with Red Lion Controls for over 25+ years, finding automation solutions for our clients.
The reason to trust Red Lion Controls for you automation needs, is due to the outsanding reputation they have. They have been working with clients around the world for the past 40+ years, and helping them find the best solutions for their applications.
Red Lion Controls manufacturers a wide range of reliable products including HMIs, Panel Meters,  and Sensors.
Showing 1–16 of 451 results
Showing 1–16 of 451 results